Fashion Model Casted as Jay in the Upcoming Black Butler Live Action Film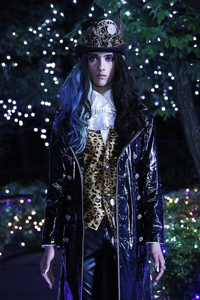 Louis Kurihara, a legitimate ikemen, will be another reason to watch the live action film for Yana Toboso's Black Butler manga. He will play an original character inspired from the story, an undertaker called Jay. Jay is a whimsically mysterious character with unknown age and desires, living in the society's underworld. His outfit is specially designed by NANA's Kentaro Otani and Tiger & Bunny's Keiichi Satou—an eccentric suit with a glamorous top hat that exudes a strange but dark charm.
This isn't Kurihara's acting debut. He has already starred in the adaptation of Emi Ishikawa's Zekkyo Gakkyu, a horror manga. Alongside this, he will be starring in the upcoming adaptation of what is yet another manga, Danshi Kokosei no Nichijo by Yasunobu Yamauchi.
Kurihara has disclosed his emotions when he was offered the role. He was happy to hear that this is Hiro Mizushima's comeback movie, although he himself has not much experience in acting prior to this project. Kurihara reveals that the atmosphere in the set is more like a Tim Burton movie, and he felt the warmth from his co-actors who helped him achieve the right feel for his character.
The top hat is what makes Jay seem so special, and Kurihara complimented his costumes with the outright desire of wanting to take it home—only he had no idea how it actually costs.
Just as revealed, Jay is another original character not found in the manga, but is made especially for this live action adaptation. Some parts of the manga have been changed in order to recreate an atmosphere to suit the modern times. However, just as in the story, a demonic butler who has perfect manners and skills becomes the highlight. He makes a contract with his master, and this symbol is evident in the master's right eye. As the butler, he is bound to protect and watch over his master at a price.
See the latest stills and other posts about it here.