Black Butler Live Action Film Releases Stills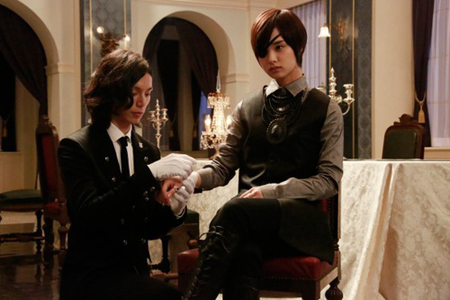 Cinema Today, a Japanese movie website, has revealed a gallery of images taken from the production of the film adaptation for Yana Toboso's Black Butler manga. The stills feature the characters of Hiro Mizushima as Sebastian, Ayame Gouriki as Shiori, Mizuki Yamamoto as Lin and Yuka as Hanae. The movie's settings and the BTS photos gives the viewers a glimpse of what the movie is going to like.
Despite the original manga being set in a 19th century England, the new film is plotted more than 130 years later than the original time. This setting is in 2020, located within an Asian city where the western and the eastern cultures intermingle with liberty. The Phantomhive family is a famous clan where only males can rein; and the next in line Shiori takes on male clothing and the name of Kiyoharu to lead this massive corporation.
Ayame Gouriki discusses how delightful she is in her first cross-dressing role. She said that the clothing looked good on her figure, and she acknowledges the various feedbacks for the film having an entirely different new lead character. She said that it was not enough to play Shiori's role as a male by just lowering her voice and changing her manners,
Mizushima Hiro takes on Sebastian Michaelis as his comeback role. The demonic butler with intelligence, manners and skills takes the reins on the film. Similar to the original manga's Ciel, Shiori has a seal in her right eye as a symbol of her contract with Sebastian. He watches over his master protectively, however, at a great price. He consumes her soul.
Kentaro Otani and Keiichi Satou joins hands in co-directing this manga inspired film. The Black Butler has debuted in 2006, with 16 volumes and 15 million copies in print. A television anime has already been produced in 2008, along with a stage play in the following year.