Movie Poster For Yasuomi Umetsu's Kite Posted By IGN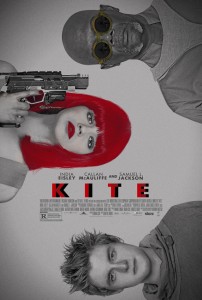 Fans of Yasuomi Umetsu's (梅津 泰臣) controversial 1998 anime Kite (A カイト) are already on their toes waiting for the release of the live action movie starring India Eisley, Callan McAuliffe and Samuel L. Jackson. IGN has kept fans anticipating as the video game entertainment website posted the official poster of the movie.
The live action movie is based on the cult classic anime with the violent sex scenes omitted and story line changed without straying from the original story. Sawa, played by India Eisley, is a young girl orphaned from an assassination incident that targeted her parents. She was then taken under Karl Aker's (Akai in the anime) wing, played by Samuel L. Jackson, who trained her to become an assassin. In the live-action movie, Sawa is obsessed with weeding out individuals involved in flesh cartels whom she believes have killed her parents. The movie features scenes which was made famous in the anime, including the elevator and bathroom scene.
The movie poster is a San Diego Comic Con exclusive which makes it awesome. If you still need to dig up more on this movie, we've added the 9 minute trailer below to help you get started. Kite will be in theaters within the year.