Hiko Seijuro Joins In Rurouni Kenshin Cast In The Legends Ends Poster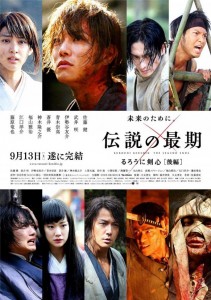 With the current Rurouni Kenshin (るろうに剣心) movie set around the Kyoto arc, a fair number of fans hoped for the appearance of Kenshin Himura's (緋村 剣心) badass master, Hiko Seijuro (比古 清十郎 十三代). Fans can finally breathe a sigh of relief or let out a scream that would make a fan girl proud as Hiko Seijuro will appear in the third and final movie installment of Rurouni Kenshin! This was proven by the brand new movie poster for  that features the cast with an additional member to the familiar faces we have come to know and admire.
Hiko Seijuro will be portrayed by Masaharu Fukuyama (福山雅治), a Japanese actor that's abundant on talent. Fukuyama not only acts, he's also a musician who sings and writes his own songs – the 45-year-old Fukuyama is also a multi-instrumentalist. Now how's that for talent?
In the anime and manga, Hiko Seijuro is the ultimate manly-man samurai. The master of Hiten Mitsurugi Ryu rescued Kenshin from a bandit raid that killed his adoptive family and passed the way of the sword to him. Tall and muscular with the attitude to match, Hiko makes a living as a potter and hides under the name Niitsu Kakunoshin (新津 覚之進). However, when he's in a serious mood, Hiko shows his responsible side and shows great respect to those he consider as true warriors.
Rurouni Kenshin: The Legend Ends (るろうに剣心 伝説の最期編) will be in theaters on September 13, 2014.