Cosplay Mania '14 Evolution Ready To Take Off To Greater Heights

Cosplayers of the Philippines, ARE. YOU. READY?! The biggest cosplay event in the country is coming on fast wings and Cosplay.PH is putting up a line up of activities that's bound to make another awesome mark in cosplay history! With the Cosplay Tournament of Champions 5 (TorCH 5) well underway and raking in talented teams that hail from key locations in the Philippines, Cosplay Mania '14 is nearing its 100% completion. Cosplay.PH has been updating constantly on their planned activities and here's a quick guide on what you should be seeing if you're going to hit Cosplay Mania '14:
Cosplay Tournament of Champions 5 Finals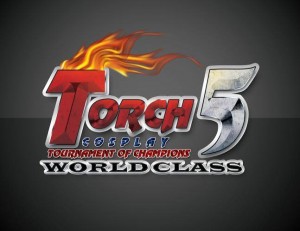 The finals of the Cosplay Tournament of Champions 5 is on top of the Cosplay Mania '14 cake and is the ultimate highlight of the event. The winning teams from TorCH 5 held around the Philippines will show their skills and compete in Cosplay Mania '14. The team that will be declared as the Cosplay Tournament of Champions 5 Champion will represent the Philippines in the Anime Festival Asia to be held in Singapore. Get your fill of TorCH 5 information by clicking here.
Cosplay Solo Showdown
Going solo? Want to take your performance to the next level? Then the Cosplay Solo Showdown is just for you! In the Cosplay Solo Showdown, you call the shots. You get to customize your performance according to how your character and your costume works such as the background music you'll be using. Sounds cool, right? Slots are limited for the Cosplay Solo Showdown so if you're interested, sign up fast! Head on down to the Cosplay Solo Showdown page and learn how you can join in on the fun.
Cosplay Team Battle
Think it's better to be in a team? Then bring your pals together and give the Cosplay Team Battle a go! The Cosplay Team Battle will give you the chance to give it your best shot at performing your group's skit as your team will be manning the stage and that's not just limited to your performance's audio track – this also extends to your video presentation. If this has got you interested, click here so you can read the Cosplay Team Battle rules and guidelines.
Hall Cosplay Masquerade
Surprise, surprise! The Hall Cosplay Masquerade is a special cosplay contest that allows the candidates to go enjoy Cosplay Mania '14 and be in a contest at their own pace. The contest focuses more on the costumes made and worn by the contestants and winners will be chosen by three (3) secret judges who will scan the area undetected for the names and faces who joined the contest. If you this competition is for you, then read more about the Hall Cosplay Masquerade by clicking here.
Cyberzone Cosplay Grand Prix
Last but definitely not the least is the Cyberzone Cosplay Grand Prix. This is for video game (and that includes online games, apps, console and arcade games) junkies who also dabble in cosplay. Bring out your character to life and on stage and you just might stand a chance to win awesome prizes! If you're dying to try this out, the rules and guidelines are right here just for you!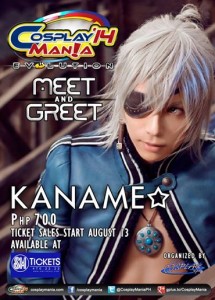 What makes Cosplay Mania even more exciting for cosplay fans are the cool guests that would make a special appearance in the event! Japanese cosplayers Kaname and Reika are coming back to the Philippines once again to spice up Cosplay Mania. Also hailing from the Land of the Rising Sun is cosplayer Tatsumi Inui, the director of WorldCosplay.Net and Cure. Cosplay Mania '14 will be Inui's first time visit and the same goes for American cosplayer and model Vampy Bit Me! VIC and Jesuke, two of Singapore's most famous cosplay faces, will also be present in the event. Joining in on the special guests list are members from The Endless Illution, Orochi X and Pinky.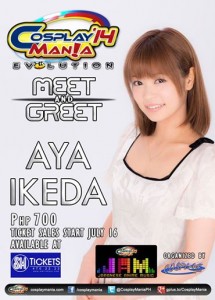 International cosplayers won't be the only ones present in Cosplay Mania '14! Thanks to the JAM (Japanese Anime Music) Concert, Japanese singer Aya Ikeda (池田彩) will be in the Philippines for this special event together with J-pop band Loverin Tamburin (ラブリン タンブリン).
More Cosplay Mania specials events are coming your way so stay tuned! Like the official Cosplay Mania Facebook Fan Page and bookmark the Cosplay Mania website so you won't miss out on updates. Cosplay Mania '14 will be on October 4-5, 2014. See you there!
Image credits go to Cosplay.PH