Rurouni Kenshin Stars Head For Manila, Philippines For Movie Premiere And Press Con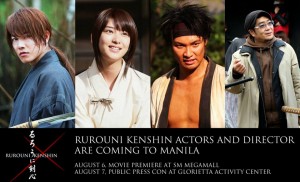 Get ready, Filipino fans because Kenshin Himura (緋村 剣心), Kaoru Kamiya (神谷 薫) and Sanosuke Sagara (相楽 左之助) in the flesh are heading for the Philippines for not one but two awesome events you shouldn't dare miss!
Rurouni Kenshin (るろうに剣心) stars Takeru Satoh (佐藤 健), Emi Takei (武井咲), and Munetaka Aoki (青木崇高) will be in Manila on August 6 for the movie premiere of Rurouni Kenshin: Kyoto Taika-Hen (るろうに剣心 京都大火編) in SM Megamall, Mandaluyong which will be followed by a public press conference on August 7 in Glorietta Activity Center in Makati. Joining the trio is the director behind the highly acclaimed live action take on Nobuhiro Watsuki's (和月 伸宏) legendary samurai manga, Keishi Otomo (大友啓史). This announcement was made on July 25, 2014 jointly by William Ireton and Francis Soliven. Ireton is the President & Representative Director of Warner Entertainment Japan, Inc. while Soliven is the General Manager of Warner Bros. Philippines.
In their statements, both Ireton and Soliven both mirror the sentiments on how huge the impact is of Rurouni Kenshin in the Philippines. "We are thrilled to bring director Keishi Otomo and castmembers Takeru Satoh, Emi Takei and Munetaka Aoki to Manila so they can personally thank and engage with the loyal fans of 'Rurouni Kenshin'." Ireton said. "The Philippines is a very important market for the franchise as proven by the outstanding box-office success in Manila of the first 'Rurouni Kenshin' film in 2013." "Moviegoers in the Philippines have helped create a wave of anticipation and excitement for the 'Rurouni Kenshin' sequels and the upcoming talent visit is a much welcome recognition of the fans' ardent support." Soliven adds.
Filipino cosplayer Jin will be there in the premier in the event so it's a double treat for cosplay fans! Will Jin be there to cosplay as Kenshin? Find out the answer on her Facebook Fan Page!
Rurouni Kenshin: Kyoto Taika-Hen will be in Philippine Theaters on August 20. Need a trailer? We got you covered! Get your fill of The Great Kyoto Fire below.