Hatsune Miku Cosplay Tutorial: Step-By-Step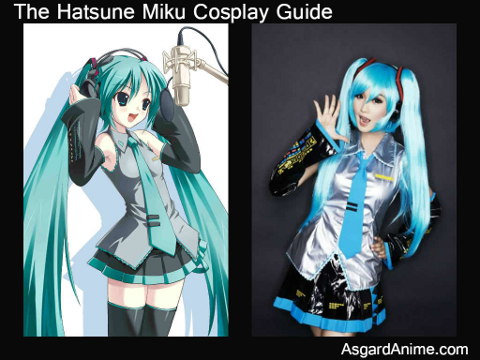 Vocaloid (ボーカロイド) princess Hatsune Miku (初音ミク) is definitely one of the most popular cosplay choices the world has ever known.
I had the Miku fever once as Miku was part of my original must-cosplay list. Here's another Asgard Anime How to Cosplay guide featuring the world famous singing sensation!
I. KNOW YOUR CHARACTER
There have been a lot of misconceptions about Hatsune Miku and the rest of the Vocaloid. People often associate them with anime as they have the look that could easily link them with it.
The truth however is that Vocaloids are, as their portmanteau is broken apart, "Vocal Androids". Vocaloid is a computer program that allows you to make up your own songs with your own song sung by the program itself. There are a lot of Vocaloids out there and Hatsune Miku is one of them.
1. Quick Background
Hatsune Miku is not the first Vocaloid ever created. She is, however, the first of the VOCALOID2 series to be released in Japan. She was designed by KEI with the color scheme reminiscent of Yamaha's blue-green synthesizer.
Miku's short biography shows that she is 16 years of age, stands at the height of 5'2″ and weighs a light 42 kg. Hatsune Miku is voiced by Japanese seiyuu Saki Fujita (藤田 咲) who has also voiced Ultra Street Fighter IV's Elena (エレナ). Hatsune Miku is, according to Crypton Future Media (クリプトン・フューチャー・メディア株式会社), "an android diva in the near-future world where songs are lost".
2. Personality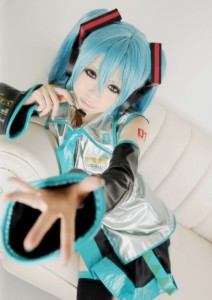 This part is tricky. Every Vocaloid's persona changes depending on the song they are singing such as Love is War and Magnet.
Based on the many depicted art of Miku, however, Miku is one of the most cheerful of the Vocaloid bunch. Her openly friendly and moe appearance, paired with her signature turquoise twin-tailed hair attracts a legion of fans.
Miku belts out song after song with passion and energy as what Vocaloids do. Most Hatsune Miku cosplayers emphasize their poses on Miku's love for music (i.e. touching their headphones and stretching their hands out as if singing) or cute poses.
3. Appearance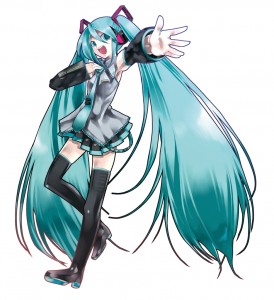 Hatsune Miku comes in a multitude of costumes and hair styles depending on the song she sings. But she is most widely known for her default costume.
Miku has a twin-tailed hair-do in the shade of turquoise. Her hair falls past her knees. She wears a grey, sleeveless button up top with a collar and is completed with a turquoise tie with black bars in the middle part.
Miku's black, mini skirt is pleated and has digital yellow squares. Her costume is lined with a turquoise lace and a turquoise belt hangs on the side.
Miku has arm bands which have digital symbols on it, as well as her skirt and thigh high boots. Squares of black and red ribbons keep her pig tails in place and she is never seen without her iconic headphones.
She also has a digital tattoo of the number "01" in red ink on her left arm with her name written below it.
We hope you love the products we recommend on this site as much as we do. But just so you know, our site may receive a small percentage of the purchase price if you buy after following a link here.
II. Prepare Your Costume
1. Costume
The image you see here is a full 360 degree view of Miku's default costume.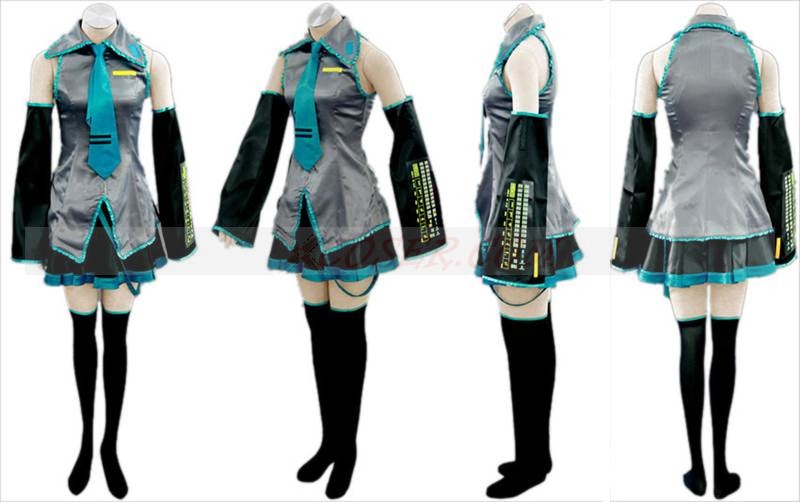 This is great if you want to make this costume yourself or have it tailor made. If you have a bit of extra cash to spend, a lot of online shops have Hatsune Miku costumes ready for order (you can get one from Amazon here which includes everything).
Making this costume yourself means knowing what type of cloth to get. To get that Vocaloid sheen, my personal suggestion would be satin.
If you're making your costume yourself and you're in a bit of a trouble with the arm warmers, worry not! Cosplay.com's HareyuNanami has been kind enough to share her Miku arm warmer designs.
Now, here comes the tricky part: the thigh high boots.You can now get a pretty awesome pair from Amazon here (complete with all the right trim colors). Or you can look for some plain black boots in a thrift shop or garage sale. Or a cheaper but not quite as good option would be to simply buy black, thigh-high socks and black shoes. You can then accentuate them with the turquoise trim.
2. Hair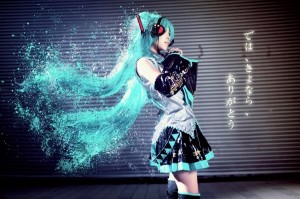 If you're aiming for complete and total Hatsune Miku accuracy, it would be almost impossible to grow out your hair past your knees and have it dyed turquoise!
So the best option is to get a twin-tailed wig. Depending on the wig's quality, it can go for as low as $18 and as much as $40.
Amazon to the rescue here, because they have a good selection. This one in particular is really good and the right color.
3. Props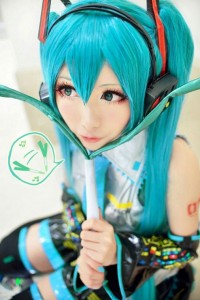 Miku has two items that complete her get-up: her red and black magnetic ribbons that keep her pigtails together as well as her head phones.
The best tutorials are the ones seen step-by-step and Deviantart's xxayaneko is ready to help you with your props with her Hatsune Miku Hair Clip and Head Set Tutorials.
While the head accessories complete Miku's Vocaloid look, there's also one item that is linked with Miku: the leek. Miku's strong connection with the leek came about thanks to a video featuring a chibi Miku called Hachune Miku singing Ievan Polkka while holding a leek. These leeks are available for sale over at online shops such as Amazon here as plush toys.
However, if you're thinking of making everything by yourself, here's a fairly easy way to make one with paper (sorry, video quality is not great, but you get the idea):-
III. Get Your Make-Up Ready
1. Makeup
There are a lot of makeup guides ready all over the internet for Hatsune Miku. Youtube makeup guru, Michelle Phan, is perhaps the easiest to spot. In this tutorial, Phan makes use of Hatsune Miku's turquoise color scheme. Generally, most cosplayers would go with Miku's color scheme like valxonia and momo piyo. chusupie gives another Miku makeup variation by going with white eye shadow. Check out all of these guides below for references.
2. Circle Lenses
Hatsune Miku has either turquoise or aquamarine eyes. If you're new to cosplay and if you insist on wearing circle lenses, it is highly suggested that you see your optometrist before you try them on.
Getting the wrong size, wearing them the wrong way and even the wrong contact lens solution for your eyes might give you a degree of discomfort and might possibly damage your eyes.
Keep your eyes safe and don't ever sacrifice them for cosplay 🙂
IV. How To Be Miku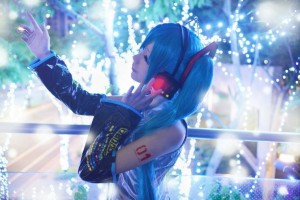 At this point, you already know that Miku sings and dances as that is what she does!
So here are a couple of videos that you should watch to learn some Miku moves. This will come in extremely handy and will definitely amp up the moe factor.
V. Say Cheese?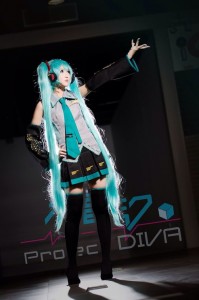 It's the day of your cosplay convention or cosplay photo shoot! You came this far in order to become Hatsune Miku so set your nerves aside and unleash your inner singing diva without any hesitation.
Plug some Hatsune Miku songs into your phone and sing along to the songs and do the moves of the songs you chose. If you're in a walk-in presentation and a different song is playing in the background, just keep on doing it.
Be the best Miku that you can be! Have fun and good luck!
Ever cosplayed Hatsune Miku? Talk to us over at the comments section below and tell us your own tips, tricks and experiences!
Cosplay photo credits go to the following: