Super Sonico Burns Racing Tracks As Gloomy Bear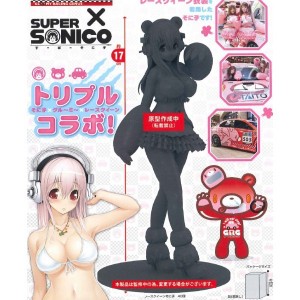 With Super Sonico's (すーぱーそに子) very own anime part of the Winter 2013 anime lineup, it's only fitting to have everyone's favorite pink-haired hottie shown in and around town. A lot of Super Sonico figures have already been released which portray Sonico in different ways from WAVE's Beach Queen to Zenko's sexy traditional Japanese-inspired garage kit. Now, we'll see Super Sonico as a Racing Queen dressed up as a morbid take on the adorable teddy bear!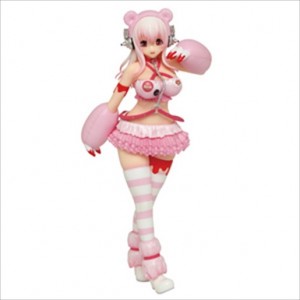 If you haven't heard of Gloomy Bear yet, here's a little lowdown for you. Gloomy Bear was created by a Japanese graphic designer named Mori Chack (森チャック). Gloomy Bear is the spawn of Chack's belief that animals are in their true natures wild and will never be compatible with humans – which explains why Gloomy Bear is drenched in blood from attacking humans.
The Gloomy Bear-inspired Racing Queen Super Sonico is brought to you by Taito. Dressed up in a sexy top and mini skirt ensemble in a pink-and-white motif with blood red (literally) highlights, Sonico struts her stuff in a pose that screams kawaii. Oh, did we mention that she's never without her signature headphones? This time, they have pink bear ears to go with it.
This Super Sonico Racing Queen figure's release date will be announced soon.