The Fast-Dealing Property Trading Game Gets The Legend Of Zelda Edition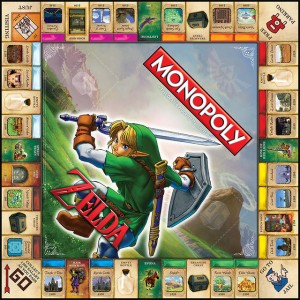 Here's something new for The Legend of Zelda (ゼルダの伝説) fans. Hasbro, the famous toy company behind Furby, Play-Doh and Dungeons & Dragons, have finally let their most celebrated board game reach the land of Hyrule! The latest addition to the Monopoly series of board games comes in The Legend of Zelda edition.
So what should you be expecting in this version of Monopoly? For starters, the game is set in Hyrule so if you've played The Legend of Zelda, there will be places scattered around the board which are familiar to you including Hyrule Castle and Faron Woods. Your money will also be in the currency used in the game called Rupees (ルピー). Did we mention that your tokens are in beloved Zelda items?
Monopoly is the biggest board game to have ever swept the world off its feet. Originally produced by the Parker Brothers in 1933, your goal as the player is to "monopolize" the market and drive other players to bankruptcy.
The Legend of Zelda Monopoly set will be released on September for only 39.99 USD. Grab yours via pre-order at GameStop and you'll have not one, not two but four(!) bonus goodies including the Ocarina of Time (時のオカリナ) token, six Item Power Cards and Hyrule Map Lithograph in a Treasure Chest holder all wrapped up in its custom packaging.