Figures In The News, Vol. 7: The Sexy Super Girls Edition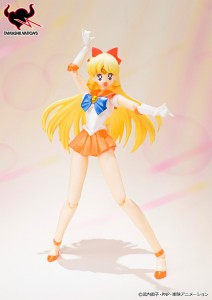 Even if the holidays are done, collectible figures just keep on rolling and Asgard Anime brings you Figures In the News now in its lucky 7th volume and starring 3 figures you don't want to miss!
Bandai is going on an all time Sailor Moon (美少女戦士セーラームーン) high with the vivacious Sailor Venus (セーラーヴィーナス) as the latest addition to the S.H. Figuarts Sailor Moon line, thus completing the Inner Senshi (四守護神の戦士). Like the previous Sailor Moon S.H. Figuarts line up, Sailor Venus is fully poseable and comes with three different facial expressions.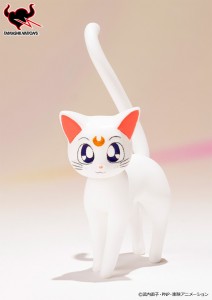 You can have her pose in her Crescent Beam (クレッセント・ビーム) attack or her poses after she transforms from school girl Minako Aino (愛野 美奈子) to Sailor Venus. Complete your Sailor Moon collection by gettin Sailor Venus for only 4,536 JPY (43.60 USD). Oh, did we forget to mention that her guardian cat, Artemis (アルテミス) goes with her? Sailor Venus and Artemis will be released on April 2014. Read more about it on the Sailor Moon Tamashii website.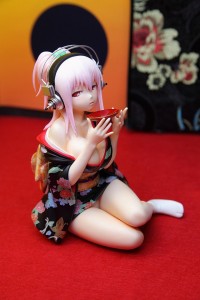 Nitroplus's (株式会社ニトロプラス) Super Sonico (すーぱーそに子) has another figure and this time, she's on serious mode. Sculpted by the talented Zenko (硫黄泉), this version of Super Sonico is dressed in a fully detailed kimono with her hands daintily holding around a cup. This mature take on Sonico is a must have if you're a Sonico collector for this is one of those very rare moments where she's dropped her silly persona. Check out more photos over at Zenko's page. This figure will be displayed in the Winter WonFes on February 2014. By the way, did we tell you that this is a garage kit?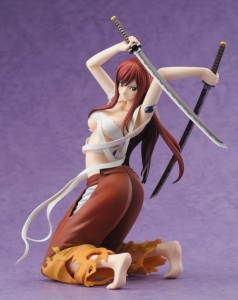 Last but not the least in Figures In the News is Fairy Tail's (フェアリーテイル) Erza Scarlet (エルザ・スカーレット) in her flaming Japanese hakama. Brought to us by Hobby Japan, this Erza figure has removable parts; take off the hakama and Ezra will be revealed to be wearing an intricately wrapped white cloth. Get this Erza for only 9,800 JPY (94.18 USD)! Pre-orders are currently entertained until January 10, 2014 and will be released in Japan only.