Catch You, Catch These Cardcaptor Sakura Bags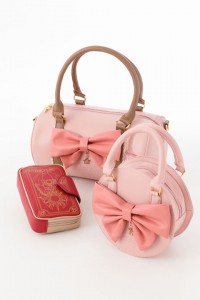 Remember Cardcaptor Sakura (カードキャプターさくら) and how it completed your childhood? You can now take your precious memories of your childhood with you wherever you go with these beautifully made Cardcaptor Sakura bags thanks to 2PMWORKS brand, Super Groupies!
There are three bags to choose from: the Ribbon Shoulder bag, the Clow Card Pouch and the Ribbon Boston Bag. The bags, all inspired by Cardcaptor Sakura, come in shades of pink with the Clow Card Pouch in red. Priced at 4,800 JPY (46.79 USD), 3,800 JPY (37.04 USD) and 7,800 JPY (76.03 USD) respectively, the bags also come with hints of accessories that are found in the series like the head of the Clow Wand which Sakura Kinomoto (木之本 さくら)  that can be found in the Clow Card Pouch.
Created by CLAMP (クランプ), Cardcaptor Sakura first made its debut in monthly manga magazine, Nakayoshi (なかよし), on May 1996 and has a total of 12 volumes. An anime adaptation of the series came out in April 1998 and ended on March 2000 with a total of 70 episodes. The story revolves around the life of Sakura Kinomoto who accidentally released sealed magical cards called Clow Cards and was tasked by a small, winged lion-like creature called Keroberos (ケルベロス) to retrieve the cards.
Check out the official Super Groupies website now to place your order on these Card Captor Sakura bags and get them as fast as you can because these bags are limited.