Wave Adds Super Sonico To Beach Queen Series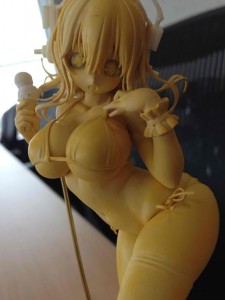 If you like Super Sonico (すーぱーそに子) and dreamed of Japanese hobby company Wave (株式会社ウェーブ) giving her a Beach Queen figure, it looks like your wish has come true! An unpainted figure of Super Sonico has been unveiled by t_santa on his Twitter in a teeny weeny bikini.
Just who is Super Sonico, you ask? Super Sonico is the official mascot of Japanese computer software company, Nitroplus (株式会社ニトロプラス). The pink-haired, red-eyed girl known for her busy appearance and signature headphones first made her appearance in October 14, 2006 during the Nitro Super Sonico, an annual live music event.
Voiced by Ayano Yamamoto, Super Sonico is an 18-year-old gravure idol in college. The talented Super Sonico is also the vocalist AND guitarist of her band called First Cosmic Velocity (第一宇宙速度) along with band mates Suzu Fujimi (富士見 鈴) on the bass and Fuuri Watanuki (綿抜フウリ) on the drums.
Super Sonico has made appearances in every media imaginable. She has a total of six singles and three albums in the music industry with SUPERORBITAL as her first single and SONICOROCK Tribute to Vocaloid as her latest album. Super Sonico has also appeared in manga (Super Sonico SoniKoma), games (SoniComi and SoniPro just to name a few) and even gravure books. Super Sonico will also star in her own anime series entitled SoniAni: Super Sonico the Animation (そにアニ).
With this unpainted figure of Super Sonico, are you excited to see the finished product? Will you add this to your figure collection? Stay tuned to find out!