Hardcore Chocolate Puts The Word Fighter In The Street Fighter Line Of Shirts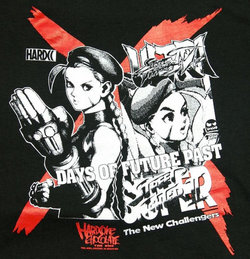 Need a totally badass shirt? Fan of Street Fighter? Then grab these awesome Street Fighter (ストリートファイター) shirts from Hardcore Chocolate. This awesome shirt company has added Street Fighter to their roster of pro-wrestling and punk inspired shirts. Their Street Fighter line of shirts goes with the theme Days of Future Past which combines art hailing from Street Fighter II (ストリートファイターⅡ,) and Ultra Street Fighter IV.
The designs come in three characters namely Ryu (リュウ), Cammy (キャミィ) and Akuma (悪魔). These three characters appeared in Street Fighter II and its subsequent games with Cammy making her debut in Street Fighter II.  The Street Fighter II version of their characters have been put side by side with their Ultra Street Fighter IV for a cool comparison. You have two designs to pick per character too, one is a full body comparison (complete with 8-bit characters!) while the other covers the torso only.
The Street Fighter Days of Future Past shirts sell for only 3,800 JPY (37.04 USD) a piece so you might want to grab both designs while the price is already decent.  Head on down to Hardcore Chocolate's official website so you can catch the other designs and place your order in one go! We're betting you'd go with the Cammy shirts.