Zubora-Meshi Live Action Adaptation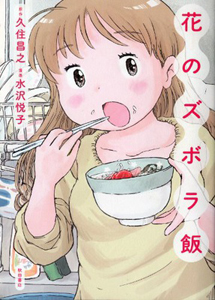 Masayuki Kusumi and Etsuko Mizusawa's collaboration project Hana no Zubora-Meshi (translated as Hana's Sloppy Meals) is now prepping up for its live action television, premiering this October. This manga short tracks the everyday life of a cute but often lonely housewife named Hana, and the many meals she cooks for herself while her husband is on a faraway assignment. This is an award-nominated story from Kusumi, who is also known for his other cooking-themed work, Kodoku no Gourmet.
This new project will be slated for the MBS/TBS channel. Hana no Zubora Meshi will have 10 30-minute episodes directed by Noruko Yuasa and Yasuyuki Fukusako. Ookura and Ayako Kitakawa will be creating the scripts for the series. Further details about the project will be announced soon.
Akita Shoten's Elegance Eve magazine featured this Kusumi and Mizusawa manga starting on 2009, and Akita Shoten has published two volumes of it, selling about 500,000 copies. This plot was nominated for the 2011 Manga Taisho Awards, as well as the 2012 Booklog Award. Female readers ranked this title as the number one manga from the survey created by Kono Manga Ga Sugoi! 2012 guide.
The readers accepted this new title with appreciation, which ignites Japan's interest in going through a Zubora-Meshi, which is a term for cooking with the smallest amount of effort possible. In the manga, Hana Komazawa lives the life of being a single—again. This 30 year old wife has a husband whose assignments often kept him away for so long, which forces her to eat meals by herself.
Not wanting to put a lot of work into cooking food which only she can eat, she tries to cook one very easy but tasty meal. This story inspires comic readers to create savory dishes in a fast and convenient way too.
Kodoku no Gourmet, another of Kusumi's character solitary meal stories, also gained attention.