Fushigi Yuugi Creator Plans To Resume Arata The Legend This Year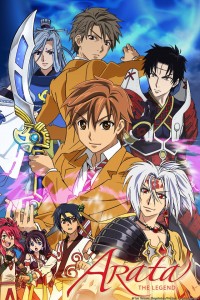 Yuu Watase (渡瀬 悠宇), the name behind the legendary series Fushigi Yuugi (ふしぎ遊戯) and Ayashi No Ceres (妖しのセレ), has made an announced via her personal blog last July 5 that she will be resuming her shonen manga, Arata the Legend (アラタカンガタリ 〜革神語), this fall. That's not all! Watase has also included in the announcement that the fourth volume of the series's deluxe edition will also be released simultaneously with the manga's return. Watase's goal is to have everything released by October.
Arata the Legend was first serialized in 2008 under Weekly Shonen Sunday (週刊少年サンデー) and is Watase's first shonen manga. It tells the story of two boys named Arata who belong to different dimensions. Arata Hinohara (日ノ原 革) is a high school student who wished to put his past behind him but Masato Kadowaki (門脇 将人), the bully in his former school, still won't stop tormenting him as he goes to the same school Arata does. Arata gets the surprise of his life when he turns around a corner and ends up in Amawakuni (天和国), a place where both gods and humans live side-by-side together. It turns out however, that Arata Hinohara has switched lives with another boy named Arata. This Arata has been chosen to become the governing princess (yes, you read it right) because of no other females in his bloodline. During the ceremony, the current princess has been killed by a member of the Twelve Shinsho (十二神鞘) and framed Arata of the crime. Arata escapes and runs into the Kando Forest (神開の森) but for some strange reason, he ends up in modern day Japan.
Arata the Legend has been on hiatus from the same publication since February and with Watase's good news, fans can enjoy the series once again!