Yuyushiki TV Anime Teaser Streamed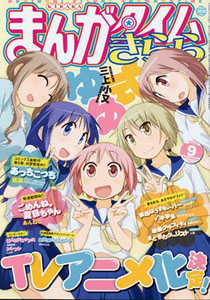 Just this Friday, the official website for the television anime Yuyushiki has begun streaming its 30-second promotional teaser. This is the same video which debuted at the Comic Market 83 event last year. Yuyushiki is an original work by Komata Mikami, a four-panel manga which follows the life of three girls as they work together in the data processing club.
The website has also announced the main cast of the anime, which includes Pretty Rhythm Dear My Future's Karin and Fractale's Phryne, Minami Tsuda. She will be playing the role of Yui, while Risa Taneda, who has played a role in Oreshura and Say "I Love You" will be Yukari. Rumi Ookubo will be the last member of the trio, Yuzuko.
Code:Breaker and .hack//Quantum episode director Kaori will be directing the series at the production studio Kinema Citrus. The staff will be as listed below:
Scripts Supervision: Natsuko Takahashi
Sound Production: EXIT TUNES
Character Design: Hisayuki Tabata
Art Director: Hiroshi Kato (Totonyan)
Sound Director: Jin Aketagawa
Color Key: Nobuko Mizuta
Director of Photography: Yu Wakabayashi (T2 Studio)
Yuyushiki's television anime adaptation was announced in the September issue of Houbounsha's Manga Time Kirara magazine. Mikami launched the manga in the same magazine back in 2008, and Houbounsha published the fourth and latest volume on March 2012.
This cute anime series will premiere these April. The official website has also created an entry with staff interviews about this project as well as the maker's comments. These articles were first seen in the Maker Odan Anime Guide 2012 Winter, an included handout at Comic Market 83.
Do you love data processing, cute girls and comedy all around? Yuyushiki puts a whole new twist into this hobby. This changes the dull, monotonous IT into something more fun, bubbly and giggly! Get a sneak peak of this April anime by watching the video teaser below: