Yume no Kaiyoiji Manga Prepared for Live Action Film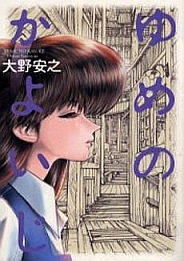 There are so many things that happen in high school. This moment of everyone's life has been considered the most vibrant of all. As girls and boys reaches fine stages of their youth, many things begin to open up—new crushes, friends, love, and so on. This is the time when one can find themselves within a crowd; geek, heartthrob, the school's beauty or just a nobody. There is no doubt that this is a great episode of a character which is themed in many animations, just like the one we're about to tackle now.
Yasuyuki Ono's manga Yume no Kaiyoiju (Way of Dreams) is now green-lit to be adapted as a live-action film. However, not just like any other high school drama, the plot seems to go more than what the façade shows. In fact, it goes through deeper—like something that goes through the walls and cannot be seen by a naked eye.
Yes, it's a ghost story, and a rather good one too! The original one-volume only manga follows the track of a girl who moves into a suburban high school. Being curious of the new world around her, the girl wants to explore more about her school. One day, she wonders into an old wooden school building, and there she meets another girl. Strangely though, she wears a different uniform from her own. As it turns out, her new encounter was with a ghost, and the two have a mysterious exchange.
Anna Ishibashi and Seika Taketomi will star in this dead ringer film. The other cast includes Shunya Shiraishi and Kaya Asano, along with Yui Ueta, Satsuki Oda, Miyoko Omomo, Mitchie Kita and Yoshinobu Yamada. Monochrome no Shoujo's Toshihiro Goto will be writing and directing the film.
The fillm will first hit the big screen on November 17 in the T-Joy Nagaoka Theater, and on the T-Joy Niigata Bandai Theater on the November 24th.
Watch the preview below: