Yankee-kun to Megane Chan Creator Launches New Manga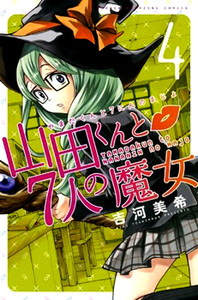 And another new manga is coming your way, this time, from the renown Miki Yoshikawa, creator of Yankee-kun to Megane-chan and Yamada-kun to 7-nin no Majo series. Yoshikawa has announced on her twitter account on Monday that she will start an all new series this February. Followers are pleased with this news, and Yoshikawa has given her gratitude for the support of her fans. It was this support, she says, that led her to a new serialization.
Yoshikawa's last manga is Yamada-kun to 7-nin no Majo and has just launched it February last year. the series is currently running in Kodansha's Weekly Shounen Magazine. A fourth volume of the series has been published by Kodansha on December 17.
In the Yamada-kun to 7-nin no Majo manga, Ryu Yamada is a second-year high school student studying at Suzaku High. Ryu is always the latecomer, taking naps in class and getting the lowest grades. His life is indeed dull, as compared to the beautiful Urara Shiraishi, who is the brightest and the most popular student in school. But everything changes one day, when suddenly, their bodies are swapped!
Yoshikawa is also known for making Yankee-kun to Megane-chan, a high school comedy manga featured in Kodansha's Weekly Shounen as well. It was serialized in 2011, after 5 years of its launch and has 211 chapters. The manga inspired a live-action series featuring Hiroki Narimiya as Daichi and Naka Riisa as Hana.
Miki Yoshikawa is known to be an assistant of Hiro Mashima, a renowned artist. Her works are considered to be in rom-com genre, just as her new series is anticipated. But hold your horses yet—this new manga has yet to have a title, summary or where it will be serialized. This is still yet a mystery to be uncovered, and Asgard will deliver the news fresh just for you!