Web Ikipara Comic Released by Ikki Paradise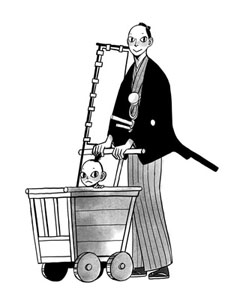 The official website for Shogakukan's Monthly Ikki Magazine Ikki Paradise, had just launched a new web manga serialization. Dubbed as "Web Ikipara Comic," the serialization started on Friday. This new special section serves to dish out manga which is particularly made for the web. What's more, is that this is free and open to all readers! The website will update new chapters every Friday.
Web Ikipara Comic corner had just launched with two fresh new manga series this Friday. The first one is a spinoff manga of Natsume Ono's original, House of Five Leaves. Highlighting the story of Kozure Doshin (The Constable who Brought His Child Along), this time, the new series focuses on the supporting character named Tachibana. This free comic traces back Tachibana's childhood, depicting his personal journey towards his contribution to the greater plot.
The second manga is called Kataware no Wareware, Knots' 4-panel comedy manga series. Now, this interesting little gag plot revolves around to lazy university students who are living together. However, what makes it more exciting is the secret which the two of them keeps.
The web comic corner will also launch other titles, such as Sho Shibamoto's Pandemonium ~ Wizard Village~ manga on January 11. It will be available both in Japanese and English simultaneously, so international readers can follow up this plot. Pandemonium ~ Wizard Village~ is all about a man who collapses in the midst of his travel, and a Good Samaritan villager who rescues him.
Web Ikipara Comic will also launch Ken Niimura's He/n/shi/n manga slated on January 18. This recounts a casual yet special occurrence that happens in a small district in Tokyo. On January 25, it will also debut To,oko Fuyukawa's Nostradamus Love. The plot revolves around a girl who is alone in July 1999 and promises a cute short story.