Usotsuki Paradox Live Action Film Reveals Cast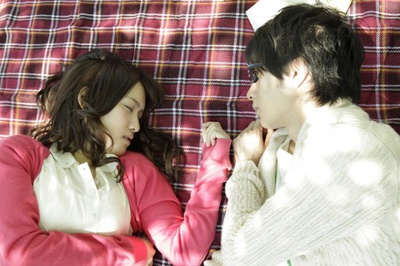 Heads up, live action fans! Another live action film adaptation is coming your way, and this time, it will be a casual romantic drama from Nanki Sato and Akira Kiduki's original. The Usotsuki Paradox manga has been announced for a live action film adaptation, and the cast and premiere ate for the said movie has just been announced.
Usotsuki Paradox, or more simply put, UsoPara, is a manga which tells a complicated love story around a salaryman named Shunsuke Yokado, and his coworker Hinako Seiyuu. Shunsuke has long been in love with Hinako, but unfortunately, she has a boyfriend. Hinako is currently in a long distance relationship, and is trying hard to keep up with the difficulties of not being with her lover.
Hinako doesn't see much of Shunsuke, until one day when they worked overtime. The atmosphere between the two coworkers changed into something else. Hinako and Shunsuke almost enter in an affair, until she remembers her true love and stops her feelings. A strange relationship between them is born after that incident, where both of them have decided to keep each other company to conquer their loneliness.
The Usotsuki Paradox film will star Nami Motoyama as Hinako Seiyuu and Akihiro Mayama as Shunshuke Yokado. Along with them are Rei Toda, Ruri Shinato and Mik Anono. Kota Yoshida will be writing and directing the live action film adaptation.
Usotsuki Paradox manga has been produced by the wife-husband team behind the stories Maid Shokun!, Megane x Parfait and Ichigo no Gakkou. UsoPara has its 10-volume series launched in 2009, and Hakusensha has published the final volume last June. The manga has more than 400,000 printed copies.
There will be a one-week limited showing for Usotsuki Paradox at the Human Trust Cinema in Shibuya, starting on September 9. Cinema Today has posted a gallery with stills from the film.