Updates for Studio Ghibli's Kaguya-hime no Monogatari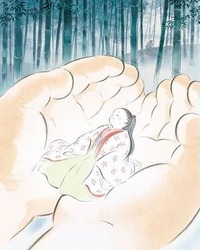 We all have been looking forward for the Isao Takahata and Studio Ghibli collaboration film Kaguya-hime no Monogatari (The Tale of Princess Kaguya) after it has been revealed alongside with another film The Wind Rises. Initially, Kaguya-Hime was slated to be released simultaneously with this well-acclaimed animated film, but the delay in production forced the project to be moved this fall.
The official website for the upcoming film has posted updates. The list of the film's cast was revealed, with Aki Asakura to lead the cast as the role of Princess Kaguya. Takeo Chii, the excellent voice actor who passed away in June 2012, managed to finish his script before his death. He will play the role of Okina. Kengo Kora and Nobuko Miyamoto will finish off the main cast as Sutemaru and Ouna respectively.
Also listed as cast are Atsuko Takahata, Tomoko Tabata, Takaya Kamikawa, Tatekawa Shinosuke, Hikaru Iijuin, Ryudo Uzaki, Nakamura Shichinosuke, Yukiji Asaoka, Isao Hashizume and Tatsuya Nakadai.
Kaguya-hime no Monogatari is actually based from the Japanese folktake Taketori Monogatari (The Tale of the Bamboo Cutter). The story says that a princess named Kaguya was discovered as a baby inside the stalk of a curiously glowing bamboo. The foktale has also inspired many manga and anime stories, including Arina Tanemura's Sakura-hime Kaden and Reiko Shimizu's Kaguya Hime.
Joe Hisaishi is composing the film's OST, and the singer-songwriter Kazumi Nikaido will write the main theme song Inochi no Kioku. Takahata will be directing the story, as he has revealed back in 2009 that his next film will be based on the folktale. He wrote the screenplay with Riko Sakaguchi.
This will be Takahata's first film since The Yamadas, My Neighbors more than a decade ago.
The Kaguya-hime no Monogatari film will be hitting the local theaters on November 23 this fall season.