Tsubasa Honda Cast as Lead in 3 AM Dangerous Zone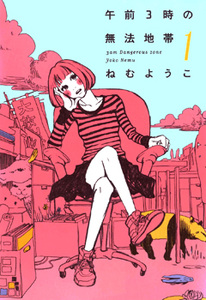 Tsubasa Honda lands her first starring role in the live-action drama adaptation of Yoko Nemu's Gozen 3-ji no Muhochitai, 3 AM Dangerous Zone. A model and a beginner actress, this series will mark Honda's first lead role. Gozen 3-ji no Muhochitai will be broadcasted only through mobile devices with BeeTV.
Gozen 3-ji no Muhochitai is a manga which trails after the life of a girl named Momoko. Momoko dreams of becoming an illustrator for a big design company. However, she gets a job at an office that designs pachinko parlors instead. Her employment is in a fast-paced office that involves gambling, something which is not within her dreams!
The office runs like a yakuza business, employing a not-so-ordinary designer who has a habit of stripping in the middle of the night. Momoko is startled to see the many strange and unusual things in the office, believing that this is definitely eccentric! However, because she has no other job to land on, she pulls her all-nighters, work harder even without returning home for a better sleep. Her office is filled with cigarette filled scent, wherein her voice is left unheard and a woman's authority is belittled be men's frightening orders. This is definitely a dangerous zone!
Jo Odagiri joins the cast as a man who works in the same building as Momoko, but under a different company. Odagiri will play Momoko's love interest Tagaya, as the story will center on Momoko's struggle at work and in romance.
Nemu has launched Gozen 3-ji no Muhochitai in Shodensha's Feel Young Magazine in 2008. The company has serialized three volumes, and Nemu has published two sequels to the series as well. Gozen 3-ji no Kikenchitai, a four volume story, and Gozen 3-ji no Fukyōwaon, a one volume spinoff series. The entire series have 500,000 copies in print.
Sho Aoyagi will play as Momokos unreasonable coworker, and Haruka Kinami as Momoko's love rival. The series will be directed by Rikiya Imaizumi and Nobuhiro Yamashita. Gozen 3-ji no Muhochitai will have 12 episodes and each will run for 12 minutes in length.