Tokyo Toybox in the Flesh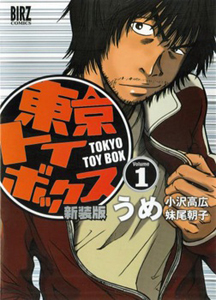 A gamer's life always have its ups and downs, but it's nothing boring. Sure, we've seen otakus sitting on their couches and holding their game console all day—sometimes without food, water, sleep, or even going to the rest room for one! But we all know that the adventure exists right inside those monitors, unknown to us, they live in another world. Now, it wouldn't be surprising if they said they all came from a supernatural alter-dimension and then comes back to live in the reality.
This is what Tokyo Toybox is all about. The manga is created by the duo UME, and the September issue of Gentosha Comics' Comic Birz has just revealed that the project will be in the flesh. A live action adaptation for television has been announced, despite not having any revelations on the broadcast time or the cast.
It seems Comic Birz is putting these details on hold to put their readers in a suspense. The company shares that more information regarding this series will be available once the October issue comes on sale on August 30.
The story focuses on the employees of a small video game company Studio G3, fictionally located in Akihabara. Tengawa Taiyou is a skilled game director and also the boss of his own development studio. However, this guy is not rich nor famous—he's largely in debt. However, meeting a mysterious young woman allowed him to change his life and his loser company into something more awesome.
UME is made up of the writer Takahiro Ozawa and artist Asaka Seo. They launched Tokyo Toybox in Kodansha's Morning magazine back in 2005, wherein the publication compiled and printed two volumes. The due then proceeded to launch the sequel Giga Tokyo Toybox (what an update to size!) with Gentosha Comics in 2006. The final chapter of this sequel was published on Comic Birz on Tuesday.