Takeru Satoh Stars in Kanojo Wa Uso wo Ai Live Action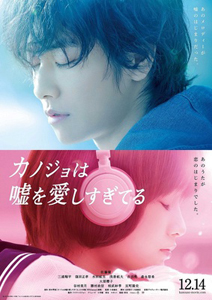 Japanese actor Takeru Satoh will not only be busy with his Rurouni Kenshin Live action sequels, but he has a few other projects in his sleeves. Just recently, a trailer for the live action film adapation of Kotomi Aoki's manga Kanojo Wa Uso wo Ai Shisugiteru has begun streaming on the film's official website. Along with the release of this teaser was the song featured in the film, "Sayonara no Junbi wa Mou Dekiteita" by a band called Crude Play. This band is the real-life counterpart to the story's fictional band of the same name.
This story will center on the life of Aki Ogasawara, a "sound creator" who creates beautiful music for the popular band Crude Play. He earns over 100 Million Yen (equivalent to US$1.3 million) per year, a whopping amount for a musician. However, he conceals all of these achievements and calls himself a regular NEET—Not in Education, Employment or Training.
In his yearning for life outside music, he begins dating a high school girl named Riko Koeda. What Aki didn't know is that Riko is a big fan of the music he composes. He keeps dating her despite having to keep his identity a secret. Even with his girlfriend, Aki still cannot escape the world of music.
The film will star Takeru Satoh as Aki. Alongside him is a newcomer leading lady, Sakurako Ohara, who will be playing the role of Riko. Other casts for Kanojo Wa Uso wo Ai Shisugiteru are Shohei Miura, Masataka Kubota, Koki Mizuta and Kodai Asaka, who will be playing the role of Crude Play's band members. The actors will perform the movie's theme song.
Ryo Yoshizawa, Yuuki Morinaga, Saki Aibu, Takashi Sorimachi and Mitsuki Tanimura rounds out the whole cast. Koizumi Norihiro is directing the film, and it will open in theaters in Japan on December 14.