Takashi Murakami Manga Slated for Live Action Adaptation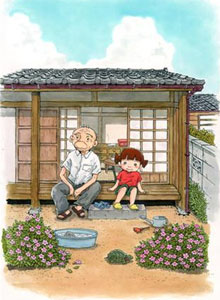 Takashi Murakami's Paji, a manga inspired from true-to-life daily scenes, will be receiving a television live action adaptation. This modest story depicts the life of a 71-year old grandfather, struggling to raise his little 5-year old granddaughter when her parents passed away so early. The 75-year old actor Shirou Itou will star in this heartwarming role and the television series will air this spring.
This slice-of-life story will be aired as a television special. Itou will be playing the title grandfather, and the budding 8-year old child actress Seiran Kobayashi will play the granddaughter, Momo. Other cast members includes Masatou Ibu, Kazuko Yoshiyuki, and Yuuji Miyake as their next door neighbors. The actress Mimura will play as Momo's late mother.
Paji was originally launched in Shueisha's Weekly Young Jump magazine in 1999. The series ran for six years, which has captivated young and adult readers alike. Murakami has also worked on other popular mangas, including Stargazing Dog and Namakemono ga Miteta, a title which has received an original video anime adaptation in 1998. All these titles has a heartwarming tinge to it, evident of Murakami's personal style and taste in illustrating and storytelling.
The manga Stargazing Dog was published by NBM Publishing and has released the one-volume book in North America in 2011. The American Library Association's Young Adult Library Services Association (YALSA) division has also chosen the manga in its Top 10 list of Graphic Novels for Teens in 2013. Alongside this, the manga was also nominated last year for an award of Eisner, included in the Best US Edition of International Material, Asia category.
The veteran actor Itou is known for his trademark slapstic gags. He has worked on projects such as NHK's Taira no Kiyomori, a 2012 Drama Series. He also played in Kochira Katsushikaku Kamearikouen-mae Hashutsujo: the Movie as Torazo Shinada, and Monk Rau in the anime Brave Story. Among the actor's live action roles include Lupin III: Strange Psycho-kinetic Strategy as Professor Zenigata, and as Chief Inose of You're Under Arrest: The Drama TV Series.