Gokusen Creator Launches Takadai-ke no Hitobito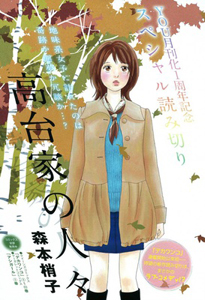 Heads up! A new light novel is about to arrive. The February issue of Shueisha's Monthly You Magazine has announced on Tuesday that Kozueko Morimoto, known for the titles Gokusen and Deka Wanko, will launch the romantic comedy manga Takadai-ke no Hitobito in the next issue of the magazine on February 15.
Morimoto has already published a one-shot take on Takadai-ke no Hitobito manga in the December 2012 issue. This is made to mark the magazine's first year as a monthly publication. The one-shot manga tells the story between a quiet, usually-day-dreaming female employee named Hirano and a handsome male upper-tier employee Takadai, who just arrived from the New York Branch. Hirano is always having trouble talking with people because of her timidity, so it comes as a surprise when she is invited to eat with Takadai.
It turns out, Takadai actually can read people's feelings.
This upcoming series will follow the other unique and strange members of the Takadai family. according to Shueisha's Monthly You Magazine, the series is launching after many readers have asked for more stories from the title.
Another of Morimoto's series also run in this magazine, Deka Wanko, which features a cute girl detective who has a strong sense of smell. However, it has been on hiatus since the run of the new title. Another of Morimoto's works, Ashi Girl, run in Shueisha's Cocohana magazine, and Shueisha published its first volume in July.
Morimoto is most known for her Gokusen series, which follows the life of a granddaughter of a Yakuza boss who wanted to become a teacher. The manga was adapted into a live-action adaptation starring Yukie Nakama and an animation adaptation was also created for the series. Gokusen ran on three seasons, with a movie released on 2009 as part of the main drama plot.