Switch Girl Manga Series Ends with its 25th Volume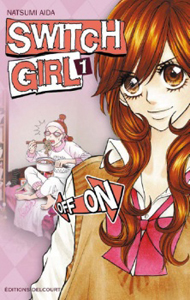 On February 25, 2014 comes the final score for Natsumi Aida's well-loved shoujo comic book, Switch Girl. The information was revealed in its 23rd compiled volume book, and the 24th volume will be shipped on January 24. Readers has been anticipating the coming of its final arc, as the 21st volume of the novel has revealed. Switch Girl has ranked as the 42nd best-selling manga locally in 2011. Aida was also listed as the 43rd best-selling manga creator by sales since 2010.
In the story, Tamiya Nika is a charming, outgoing and very famous high school girl. She has the perfect beauty, the right kind of fashion, and everyone's friend. Everyone wonders how she has this charm, but what the school does not know is that Nika works hard to keep her perfect image flawless. Which is quite the opposite of who she really is at home.
When not at school, Nika is a scary, sloppy and awkward girl who wears glasses, a cumbersome sweat suit, and has her air pulled into ugly head buns. She lays lazily around reading manga and playing video games. Unlike at school where she is unbelievably charming and giving, she is bossy and cranky and loves travelling around far where she can't be recognized.
This character of Nika is due to her "Switch" where when "switch on" means she has to undergo a strict primping and proper dressing to please everyone in her behavior and looks. The "switch off" is equivalent to her nasty, clumsy state where she doesn't care a bit about how she looks or talk. now, the only person who is aware of these changes is her best friend—but it's about to change when a second person finds about this switching personality. This second person has his own On/Off switch too!
Kamiyama Arata is a recent transfer student, and he meets Nika in her "off" mode first, and then at school when she is switched "on." However, Nika discovered his secret took Arata wears thick, ugly glasses and messy hair that makes him look like a regular otaku. But at home, he takes away his clumsy look and looks like the hottest boy at school.
The series has already inspired two live action drama adaptations, starred by Mariya Nishiuchi and Renn Kiriyama.