Stephanie Meyer's Twilight Adapted To Graphic Novel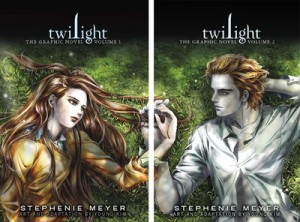 Artist Young Kim collaborates with popular novelist Stephanie Meyer to create an illustration based novel of the hit franchise Twilight. Currently, online retailer Amazon has enlisted their first graphic novel New Moon, which is staged to be released on October 30. The plot for this volume is similar to Meyer's first sequel to the Twilight story.
Kim has been known to have adapted Twilight into two separate graphic novel volumes, both which have debuted as #1 on the New York Times Best Sellers List for hardcover graphic novels range. The first volume was a mainstay in the number one spot for 32 weeks, and the subsequent volume held on to its top position for 14 weeks.
The story trails after the original plot, and in this new installment, Bella and Edward are engulfed with the fear of foreboding separation, the haunting of the dangerous pack of wolves, and the threats of a female vampire leading to their encounter with the powerful vampire nobilities, the Volturi.
A Japanese edition for the graphic novel is also available. The book is illustrated by Ryuji Gotsubo, the same artist behind the Sasameke manga. These novels are published by the famed Yen Press, who released a first printing batch of 350,000 copies of the first season of Twilight. According to USA Today, this was believed to be the largest first printing batch aimed for a Graphic Novel within the US Market, for the typical number for the initial printing is between 20,000 and 25,000 copies only.
Yen Press announced that the first Twilight graphic novel sold 66,000 copies in its first week alone, claiming a record for a US sales of graphic novel on its launch week. The graphic novel garnered many rave reviews from both press and readers from all over the world, whether they are Twilight fans, comic book lovers, or both.