Steins;Gate Film Announced for Spring 2013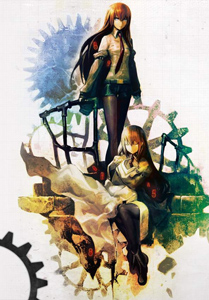 Through its official website, it has been revealed that Steins;Gate will release a film to be launched next year's spring. Head of the game development Chiyomaru Shikura has confirmed that the film, titled Steins;Gate Fuka Ryoiki no Déjà vu, will have the original plot which is based after the true end of the earlier story. He says that because the movie will not be taken as a compilation of the television series, he could not recommend it to those who are yet unfamiliar with the game's plot.
The announcement for the movie was first made at the Science Adventure Live & Drama 2012 event this Sunday. Kenji Wakabayashi will be directing the film along with the supervision of Tarou Deiji. Takuya Sato and Hiroshi Hamasaki will be chief directors, while Tatsuya Matsubara and Naotaka Hayashi will be supervising the story scenarios. Jukki Hanada will write the screenplay, and Kyuuta Sakai will once more adapt Huke's original character designs for the anime. He will be overseeing the animation process at White Fox studio.
Casted in the new movie is the original voice actors, as listed below:
Mamoru Miyano as Rintarō Okabe
Kana Hanazawa as Mayuri Shiina
Tomokazu Seki as Itaru Hashida
Asami Imai as Kurisu Makise
Saori Goto as Moeka Kiryū
Yu Kobayashi as Ruka Urushibara
Halko Momoi as Faris Nyannyan
Yukari Tamura as Suzuha Amane
Steins;Gate is originally a Japanese visual novel which was released for Xbox. The game is described under the category of the "hypothetical science ADV." The gameplay follows a non-linear plot which offers pre-determined scenarios through various courses of interaction. A manga adaptation of the story was created by Sarachi Yomi and was serialized in Media Factory's Monthly Comic Alive. An animated adaptation was produced by White Fox and was released in 2011. The popular gaming brand is created by 5pb.