Rozen Maiden Spinoff To Debut in Miracle Jump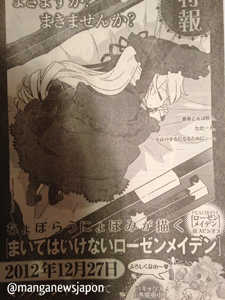 Inspired by the original Rozen Maiden series, manga creator Choboraunyopomi will debut Maite wa Ikenai Rozen Maiden, a spin off from the series. This new story will arrive in Shueisha's Miracle Jump magazine this December 27. Just like the original manga, this new plot will revolve around the dolls of Rozen Maiden, who will fight off each other until there is only one of them left, the doll called "Alice."
Shueisha's Young Jump Magazine has combined its 2nd and 3rd issue in 2013, and has announced that this new series is slated for a new television anime.
Rozen Maiden is an original series created by the art duo, Peach-Pit. The story revolves around a young hikikomori boy named Jun Sakurada, who manages to befriend Shinku, a living doll of the Rozen Maiden series. Hundreds of years ago, a mysterious doll maker Rozen has created these special type dolls. The story highlights the personality and habits of each of the dolls Jun encounters, as well as their quest on becoming the all-perfect doll, Alice.
The manga was originally serialized in the Monthly Comic Birz starting from 2002 to 2007. It also ran on an English version by Tokyopop from 2006 to 2008. A new series about this original plot had just begun on 2008, published monthly in the Weekly Young Jump. Rozen Maiden was then adapted into a 2-season anime project, the first which aired from October to December 2004, and the second from October 2005 to January 2006. Another 2-part special was aired on December 2006. Geneon Entertainment licensed the first anime for North America in 2007.
The new spinoff series will feature another variety of the story with the similar characters. Choboraunyopomi is known for creating the four-panel comedy series Ai Mai Mi which is getting a TV animation adaptation in 2013.