Otoriyose Ouji Iida Yoshimi Planned for Live Action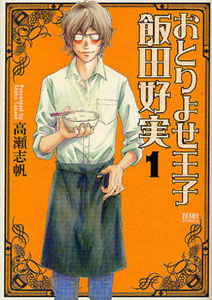 We all love eating food in secret, don't we? Other than we have no one to share it with, we are able to dig in while no one's watching. There's no one to look at us as we fill ourselves with our edible favorites, no one to mind us as we squirm through each taste with happiness. Especially, when this involves top notch cuisines and desserts! It's one of our guilty pleasures which, hopefully, do not turn into full gluttony.
This is what the nest story is all about, and probably that idea was what the manga creator Shiho Takase was thinking when he created Otoriyose Ouji Iida Yoshimi. Translated as Internet Shopping Prince iida Yoshimi, this is a food centric manga with lots of comedy thrown in for the sweet, sour, salty and bitter flavor of the overall story.
Now, this slapstick cuisine manga isn't really about cooking. This 26-year old Yoshimi Iida hardly moves a finger to create these scrumptious meals he enjoys. In the eyes of the neighborhood, he may seem like an ordinary guy, boring and less interesting in his dorky appearance and shabby dressing. However, he's got a little secret which no one knows about. He lives for food, and he is able to capture all the taste from around the country without moving an inch from his house!
His ability? He orders all of these foods online and has it delivered to his house at night.
What a sly foodie this person is! He gets to taste all of those samplings by himself and never got to share anything to anyone! That's one unique way of having fun by yourself.
Takase launched Otoriyose Ouji Iida Yoshimi in Tokuma Shoten's Comic Zenon magazine in 2010,and has published the second compiled serialization on November. The same company is also hosting the first chapter of the manga for free on its official website.
The show's details such as broadcast information, cast and such will be revealed later on in Comic Zenon's issues.