Nozoki Ana Spin-off Series Announced as Nozo x Kimi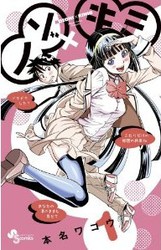 Have you ever peeped through a hole? Discovered big news through that little glance? Yes, holes are very much curiosity inducing, and sometimes, it also gets us into trouble! Here's a story about these holes, and the variety of things (or people) we discover through them! in the June issue of the publisher Shogakukan's Shounen Sunday Super magazine, we have read that a romantic comedy series by Wakoh Honna is about to take a spin off series.
Nozoki Ana , which is literally translated as Peep Hole, is a Japanese manga about two college students who live in the same apartment complex. Even though they're fairly different, they are somehow connected by a mysterious hole in the wall and a peeper who loves to peep.
Tatsuhiko Kido and Ikuno Emiru lived only as passive neighbors in the same apartment complex. However, they are connected through small peepholes in their rooms. This risqué story began when Kido discovers the lovely lady on the room next to his through a peep. Through discoveries and conversations, the two had to cope up with their lives as each of them discovers secrets that they do when alone. The humorous story has inspired an original anime video project .
Honna has launched the original series in the Shogakukan's Weekly Shounen Sunday in 2011. It was serialized in Moba Man magazine and has released thirteen volume compilations between 2009 and 2013. With a hefty track record from a plot that started with such a little annoyance, Honna's work has gained popularity. Nozoki Ana resumes in the magazine's July issue under the name Nozo x Kimi.
The new series follows the lives of two high school students, Nozomi and Kimio, and two other characters in the same apartment complex dwelled in by the characters in the original story. We wonder if this is another curious plot. Stay tuned for the laugh trip; stay updated here on Asgard!