Nosatsu Junkie Creator Releases New Manga Series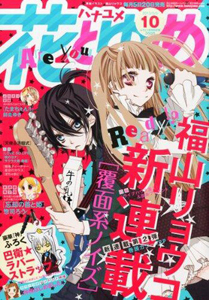 The Hana to Yume Magazine by Hakusensha has revealed a new serialization by manga artist and writer Ryoko Fukuyama (Nosatsu Junkie). On Saturday, the magazine has launched Fukumenkei Noise, wherein a 72-page chapter was created to run in Hana to Yume as part of its 10th issue of the year celebration. Fukuyama, known for her works centering on light shoujo romance, have created another young love inspired series set on a musical note.
A perfect new read for comic and music lovers, Fukumenkei Noise is a story that follows a girl and a boy who grew together in the love of bands. Nino and Momo lives next door to each other, and as children, they often sung together. Growing up as high school students, the two grew in their music as they become involved with the band club (keoinbu) of their school. However close they are to each other, some secrets are still left unsaid. The tagline for the new series reveals that Nino is a girl who harbors feelings towards her friend Momo. Just when she can no longer hide her love for him, she encounters a boy who composes music. A question ends this introduction, "What did Nino promise to the boy she met who composes music?"
Fukuyama promises another shoujo rom-com in this new title, just as what she has done with her original work, Nosatsu Junkie. In this series, a young girl named Naka has all the qualities a model can have—except when she can't smile nicely whenever she feels nervous and gets to have a scary face instead. She is dumped by her boyfriend because of this, and Naka is determined to get her payback by looking like her idol, Umi Kajiwara. Naka gets to meet this popular model, but then discovers a surprising twist—Umi is NOT a girl!
Nosatsu Junkie has been published in Hana to Yume, the same magazine that publishes Fukumenkei Noise.