New Series Debuts in Manga Town Magazine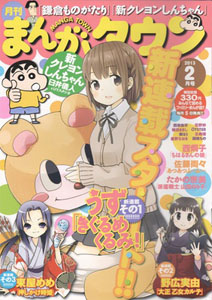 The February issue of Futabasha's Manga Town looks promising, as it launches two new series under prominent mangaka titles. Meme Higashiya, maker of Recorder and Randsell, as well as Uzu of Shiba Inuko-San has both started on their newest series within the magazine's pages.
Higashiya's new story, Oshikake-ji Hime, is featured in the lower left corner of Manga Town's cover image. Its plot follows a princess coming from the Warring States Era of Japan known as Sengoku. She time travels into the future and meets a high school boy, whom she comes to live with. The two encounters droll misadventures, and of course, potentially romance within their journey together.
Higashiya is known for the four-panel comedy manga Recorder and Randsell, currently serializing in Takeshobo's Manga Life Original magazine. This title has already inspired two anime adaptations, to which the online anime channel Crunchyroll has streamed the series as it airs. The manga's fourth volume has bundled an Original Anime DVD; JManga will be releasing the series dubbed in English.
On the other hand, Uzu's new title is Kigurumekurumi!, seen on the center of the magazine cover. It follows the story of a shy high school girl who discovers that she can enjoy communicating with others when she is wearing a character costume mascot. Uzu's Shiba Inuko-san has also inspired a television anime which aired last year. Coincidentally, JManga is also releasing the English version of the series.
There are other exciting titles within the pages of Manga Town, as its February issue also launched another fresh title from Miyu Nohiro. Taisho Otome Karute manga, seen on the lower right of the cover, tells about a story of a woman who aims to become a doctor during Japan's Taisho era.
Manga Town's new titles don't stop there; we've heard that the March issue of the magazine will launch a collaborative manga series called Tenshin Ran Man! This story is by the genius of Ari Yunohara and Seitaro Mukai. Mukai created the original concept and Yunohara will draw the series.