New Series Arriving in Shueisha's Margaret Magazine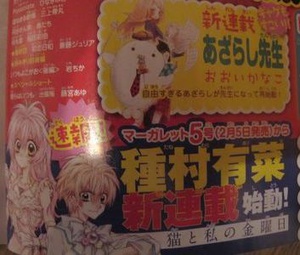 Popular print magazine Shueisha had just revealed that its Margaret shojo magazine's first 2013 issue will also be the launch of a few titles from well-known manga artists. On Devember 5, Arina Tanemura will premiere her Neko to Watashi no Kinyōbi (The Cat's and My Friday) in the magazine's fifth issue on February 5, 2013.
Previously, Tanemura had just ended her exclusivity contract with another of SHueisha's Publication, the Ribon magazine in the spring of 2011. Tanemura's Sakura Hime Kaden: the Legend of Princess Sakura, was her las series for the said print, and she is making her final chapter in that title on Saturday. Viz Media will release the 9th volume of this novel in North America in the coming week.
This same issue of Shueisha's Margaret has also revealed that the manga artist Yoko Kamio, maker of the popular Hana Yori Dango, will publish her Ringo Banana Gyūnyū (Apple Banana Milk) story in the magazines 2nd issue, arriving on December 20. The love story for Ringo Banana Gyūnyū will be a 53-page long novel and will feature pages in full color. However, it is still uncertain if the manga will be a start of a new serialization, or is a one-shot publication.
Kamio had just ended her Tora to Okami manga series early this year. After her well-known Hana Yori Dango had ended in 2004, Kamio has released two side stories for the title in 2006 and 2007. She also drew her manga Cat Street in Bessatsu Margaret from 2004-2007. Kamio also had her Matsuri Special manga featured in Jump Square magazine starting 2007 to 2009.
New manga titles are arriving in Shueisha's Margaret; with these brand new titles, readers and fans can anticipate new, fresh stories from two of their favorite authors. Discover new manga titles here at Asgard! Stay tuned!