Mystery Solving Princess is Mayuki Anan's New Manga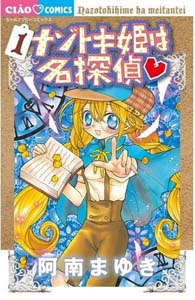 We've all heard all about dainty girls, princesses and damsels in distress, and there are heroines who are strong, fierce and confident. In the world of manga, women are unstoppable, which leads to a great number of stories within the bishoujo section of the illustrated world. girls, no matter what age they are in, come to defy their current situations and magically turn into an overnight superhero, and extraordinary princess, a crime fighting officer, and most recently, a detective.
Bishoujo mangaka Mayuki Anan is yet releasing another girl-filled adventure with her new story, Nazotoki-hime wa Meitantei (Princess Nazotoki is a Great Detective). The news about this upcoming project has been announced in the September issue of the Shogakukan Ciao Magazine, which is about to bundle a DVD with an animated short adaptation of this particular creation.
The story trails after the young girl, Hinami, who has a seemingly geek-ish appearance. A bookworm, she wanders around her community with her eyeglasses, keen to spot just about anything. Accompanied by her two friends, her wondering soon allows her to see the unfolding of many events, and where these is a mystery that needs to be solved, she magically turns into a young, feisty and clever Nazotoki Hime, the Mystery Time princess.
Anan's new title is bundled along with other video projects, along with the Nazotoki Hime wa Meitantei: Kaizobu no Rajura no Komori Uta (Princess Nazotoki is a Great Detective: The Treasures of the Pirate and the Lullaby) animation. The anime will also proceed the story tracing from the Bourei ga Sasayaku Shima (The Islands of the Whispering Spirits), which is one of the installments of the manga published in its September print.
In this anime project, Ibuki Kido plays the role of Hinami SHiori, Kaito Ishikawa plays Fujisaki, Yoshitsugu Matsuoka as Umesaki, and Haruka Ishida of AKAB48 plays Kaiji—a guest character.