More Rorouni Kenshin Live Action Teasers Released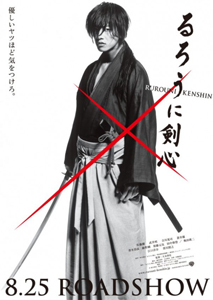 Rurouni Kenshin (Wandering Kenshin, Samurai X) is among the most anticipated manga-turned-live-action adaptation this year, and everyone is on the lookout for its developments.
Just recently, a teaser poster has been released, featuring Sato Takeru (Kamen Rider, BECK) as Himura Kenshin, in monochromatic black and white. The red dash of color highlights the cross, with the words "Be careful of this friendly man." The stark image of the photography provides a vintage feel, as the store was staged in the Meiji Restoration Era, and is considered a Taiga adaptation.
This teaser was taken by a world-renowned photographer, emphasizing Himura Kenshin's past life, when he uses his skill and his sword to kill. Nationally known as the Batousai, he was greatly feared for by his enemies and was ardently searched for as the most dangerous killer. However, vowing to seal his madness. Kenshin travels Japan with a vow not to kill again, where a friendly façade overlaps his inner blood thirsty heart.
Additionally, a recent clip of the Rurouni Kenshin movie was shown in the Japanese morning television program ZIP! The one minute and five trailer starts after 0.45 in the video shown below.
Rurouni Kenshin / るろうに剣心 -明治剣客浪漫譚 is a manga series created by Nobohiro Watsuki. It was a popular Shonen Weekly Jump publication and was adapted into an anime series. The movie adaptation is directed by Keishi Otomo, including a stellar cast: the 22 year actor Takeru Sato as the lead role Himura Kenshin; teen model and actress Emi Takei as Kaoru Kamiya; popular actress Aoi Yuu as Megumi Takani; Munetaka Aoki as Sanosuke Sagara; Takato Tanaka as Yahiko Kyohin. Himura Kenshin's rivals include Kouji Kikkawa as Jine Udo and Yosoke Eguchi as Hajime Saito.
The movie will be released nationwide on August 25 under Warner Bros.