Shingeki No Kyojin 3D Virtual Reality Gives You A First Hand Look Of The Series's World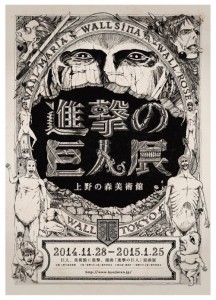 Ever wondered what it would be like to live in the world where your life revolves around and inside the Walls (ウォール)? Did you want to feel the terror of facing Titans (巨人) in all their violent and bloodthirsty glory? Your dreams have turned into a 3D reality thanks to the Shingeki no Kyojin exhibit!
The exhibit will take place in the Ueno Royal Musuem in Tokyo, Japan. The exhibit is scheduled a week after the release of the Shingeki no Kyojin compilation movie which is set for release on November 22, 2014. Features included in the exhibit are original art created by the creator of Shingeki no Kyojin himself, Hajime Isayama (諫山 創), as well as a special 3D Virtual Reality view of the world of Shingeki no Kyojin thanks to a set of Ocular Rift headset! Do you suppose you could fly and skim on the rooftops with the use of a 3D Maneuver Gear (立体機動装置)?
Get the dates and wait for more news and updates! The exhibit will run from November 28, 2014 to January 25, 2015 so there will be plenty of time for you to visit again and again and again. Need more info? Then head on down to the official website of the exhibit by clicking here.