Fans Plea For Nintendo For Company To Name Legend Of Zelda Character After Robin Williams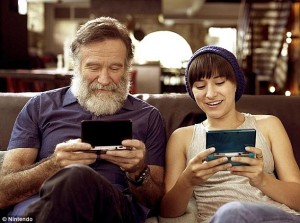 After news has spread that beloved American actor and comedian Robin Williams was passed away, Legend of Zelda (ゼルダの伝説) fans went into action and started off a Change.org petition that requested having an non-playable character named Robin after the actor. Williams, who was a huge fan of the Legend of Zelda, named his daughter with former wife Marsha Garces, Zelda Rae Williams after Princess Zelda (ゼルダ姫). Father and daughter appeared in a commercial for the Legend of Zelda: Ocarina of Time 3D (ゼルダの伝説 時のオカリナ 3D).
After getting over 100,000 signatures, Nintendo has responded with the petition through Polygon, saying: "We appreciate the outpouring of support from the gaming community, and hear the request of fans to honor him in the future game. We will not be discussing what might be possible for future games during this difficult time, but we will hold our memories of Robin close."
"It's a lovely sentiment. I noted in my last update that Nintendo making a statement was in my mind a wonderful outcome, and I still believe that. Nintendo has acknowledged the impact that Robin Williams had on the gaming world and on their community. They have also not ruled out the possibility of naming a character in tribute, so we'll see what happens. It may come to pass, it may not. That's okay." Petition organizer Nick Schaedel said in reply to Nintendo's comment via the Change.org petition.
Check out Williams's Legend of Zelda ad below. Our hearts mourn and go with the man who has made everyone's childhood complete.