New Mangas Arriving in Monthly Shonen Sunday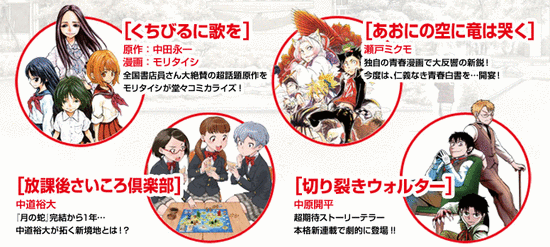 Heads up, Shogakukan readers! Its Gessan magazine, known as Monthly Shonen, will be releasing prime new series just for you. Of course, this is if you have studied your kanji and read good Japanese. However, if you're still on the way to learn, you wouldn't want to miss this update, for who knows, maybe one of these new mangas will become your next favorite!
Using his Twitter account, the manga creator Taishi Mori has revealed of his new soon-to-be-launched series in April, to be featured in the issue of Shogakukan's Monthly Shonen Magazine on March 12. Mori will be adapting an acclaimed modern novel by Eiichi Nakata, Kuchibiru ni Uta (A Song in Our Lips) into a manga. The story will follow the life of Kashiwagi, a gorgeously stunning beauty who, unfortunately, describes herself as a NEET. Now, NEET is a derogatory term for someone who is Not in Employment, Education or Training. She was a part-time teacher who went to a music college in Tokyo.
Meanwhile, her middle school classmate Matsuyama is an advisor for a middle school chorus club on Nagasaki Prefecture's Goto Island. Unfortunately, Mrs. Matsuyama has to go on maternity leave. She then asks Kashiwagi to take over the club for a year.
The little chorus club has only female members interested in it before, but upon the arrival of the charming new teacher, Kashiwagi, she suddenly attracts lots of boys. This creates a humorous conflict among its ranks. But even though it has various struggles, the club prepares for entering the NCon, a real life nationwide school music competition by NHK. With its new and diverse group, Kashiwagi leads her little singing club into facing the victory.
Alongside this title, Mikumo Seto's teen story Ao ni Sora ni Ryu wa Naku (The Dragon Cries in the Blue Sky) is also set to be launched in the magazine. Hiro Nakamichi's Hokago Saikoro Kurabu (Afterschool Dice Club) and Kaihei Nakahara's Kirisaki Walter Manga will also join the new roster of series in the Gessan.