Kaho Miyasaka Launches New Series, Akai Ito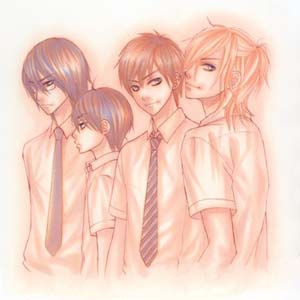 Popular shoujo romance manga writer Kayo Miyasaka had just launched a new series called Akai Ito (Red Thread). This was revealed in the October Issue o the Shogakukan's Cheese! Publication on Friday. The print has a special 40-page preview, dubbed as Akai Ito: Innocent Scene, has appeared in the magazine's September issue released on July 24.
Akai Ito trails around the story of a girl who serves as the manager her high school's popular sword-fighting group, the kendo club. Because she is obeyed by the weapon yielding members, she is feared by those around her, especially for her very stern character. However, beneath her hard shell is a deep love for her team, and she is greatly devoted to her group. Unbeknownst to her members, she has feelings for the boys around her.
However, no one was able to return her feelings; instead, their boyish nature got the best of them. one is entirely the opposite of her, another considers her as his younger sister, and another has kissed someone before her face.
Kaho Miyasaka is from Chiba and is best known for her creation, Kare First Love. This manga is another shoujo themed series, serialized in Shoujo Comic from March 2002 until August 2004. The story focuses on the plain, shy girl Karin and the cool yet mischievous Kiriya, as they encounter first love with each other. The series has been released in North America by Viz Media.
Another of her known works is Bokutachi wa Shitte Shimatta (We Came to Know It) and is consist of 10 volumes. The story began in 2007 and ran for 13 volumes before ending just this past spring. Viz Media also released this print in North America.
Other of Kaho's works are Akutou, Kiss in the Blue, 16 Engage, Miseinen Lovers and Binetsu Shoujo. Kaho Miyasaka focuses on girlish themes and is known for her light novel series.