Minetaro Mochizuki's New Manga is Inspired from Shugoro Yamamoto Creation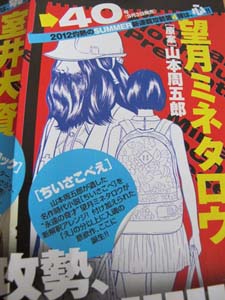 It has been revealed that this year's 40th issue of the Shogakukan's Big Comic Spirits manga series will begin its new installment on Dragon Head mangaka Minetaro Mochizuki's new title, Chiikasobee. This story is based on the historical novel created by the great writer Shuugorou Yamamoto, whose plot follows a young carpenter who cares for children, orphaned by a tragedy which struck their community. The Chiikasobee novel will begin on September 3.
Shigeji, a young carpenter living in the capital city of Edo, has been working fervently along with his parents. His little shop was the source of his income and he is known to have a cheerful and honest heart. However, he loses his family and his shop during a disastrous fire. Trying tor regain his life back, he works hard to rebuild the business all by himself. It is during this period that he meets nine children, orphaned by the same fire.
The noble worker took in the innocent children and works hard, not only for himself, but for them as well. This noble work has portrayed the young carpenter's struggle between working and charity, as well as his great pursuit in gaining righteousness.
Writer Shuugorou Yamamoto, known in his various pen names, is a Japanese novelist and a short story writer. He is known for his remarkable writings, which are seen in his vast contribution in the Japanese literature. He has at least fourteen different pen names and published great works in each. The Yamamoto Shuogorou Literary Prize is established in 1987 and has been awarded yearly to a new work of fiction, considered to portray the art of storytelling.
Mochizuki's well known title, Dragon Head, has been adapted into a live action film back in 2003. It has also been published by Tokyopop as a 10-volume series in North America in 2006 to 2008. Two of his other known works are Shark Skin and Peach Hip Girl, and Bataashi Kingyou. Both of these titles are also adapted into live action films.