Mei Renjoji Creates Rose Guns Days Prologue Manga
Ro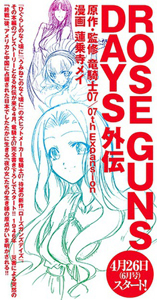 se Guns Days is a visual novel which follows a branching plot line, depending on the decisions of the player during the fame. The plot progress in the unique direction as the user intends to, giving multiple options. This also allows users to enjoy minigames during the battle sequence, although it does not actually influence the progression.
Rose Guns Days is created by 07th Expansion, with scenarios and character designs created by other collaborative artists. So far, the story has already three manga adaptations published by Kodansha and Square Enix. However, this time, a new concept to the story will be added at the arrival of its prologue issue: Rose Guns Days Gaiden.
In the March issue of the Kodansha Monthly Shounen Sirius magazine, there has been an announcement that 07th Expansion and artist Mei Renjoji will produce a prologue manga series for the Rose Guns Days game. The story is slated for the June issue of the magazine, to be released on April 26.
07th Expansion, creator of the game, has written the plot to take place in Japan after the World War II. During the devastating defeat, the Japanese government has to comply with the reconstruction plan made by the Allies. Japan starts to recover from its loss after a few years, but two strongholds, America and China, divides control of the nation on many levels. Immigrants make the locals a minority in their own nation.
Rose Haibara, a girl who works at the Primavera club, lends money to the Japanese people to help them rebuild their lives. However, some people are taking advantage of her kindness. On the other hand, Leo Shishigami is known for his reputation of being a womanizer. Their lives change as they encounter each other in the spring of 1947.
Rose Guns Days Gaiden is set on an earlier year, following the lives of Rose and a group termed as "women of the night" after the war.