Maruko-chan in Live Action After 5 Years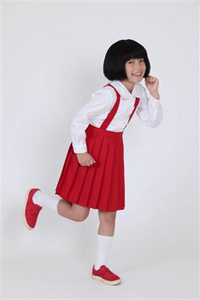 Maruko-chan is back on television, this time, in the flesh! The upcoming new adaptation will be starred by a real-life eight year old Maki Shinta, an actual 3rd grader like Maruko. This version will be an omnibus of four plots, with some stories taken from the original manga and some brand new ideas culminated for the modern time.
This isn't the first time this manga is adapted into live action. It has been five and a half years since Fuji TV debuted Maruko-chan in live action. Ei Morisako took the title role in this 2006 drama. It earned a 22.8% rating, and even spawned a sequel that earned a 17.7% rating that October of the same year. The following year, Ayaka Itou took the role and become the second live actress to star in a Maruko-Chan television series.
Chibi Maruko Chan (ちびまる子ちゃん) is a manga for girls created by Momoko Sakura. It was later adapted into an anime TV series before being depicted in live action. The story tells about the everyday life of a little girl named Maruko and her family, living in an area in Shizuoka City, suburban Japan in 1974. Shizuoka City is formerly the city of Shimizu, the birthplace of the author.
Shoujo manga magazine Ribon published the 1986 edition of the title. The manga was serialized in the same magazine until 1996. A four panel version in a Japanese newspaper was launched in 2007, and Sakura ended this version in 2011.
The original manga which inspired this series is the classic comic Sazae-san, and it is not surprising that Maruko-chan consistently ranked #2 after the series. In 1989, both mangas tied to receive the Kodansha Manga Award for shoujo category. This series has spawned various merchandising and even games; in 2006, it has sold more than 31 million copies in Japan, which makes it the 5th bestselling shoujo manga ever. Its anime series aired its 1000th episode last year.