Live Action Rurouni Kenshin Films Summer 2014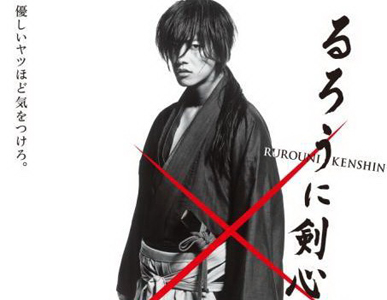 Kenshin Himura fans will be delighted to hear that there will be another cover for the well-loved Rurouni Kenshin manga coming their way. In the August issue of Shueisha's Jump Square, it has been announced that not one but two live action Rurouni Kenshin films are slated for the next summer. These projects will cover further arcs of Nobuhiro Watsuki's original manga, the Great Kyoto Fire and the Legend's End storylines. Takeru Satoh will be reprising his role as Kenshin Himura.
It cannot be denied that these new projects have been inspired from the success of the first live action Rurouni Kenshin film, which opened in Japan in August 2012. The original Watsuki manga which run from 1994 to 1999 had already much acclaim, wherein an anime series followed by anime films and videos have been broadcasted.
The official website for Shueisha's Jump SQ had additionally revealed another key character for the new movie. Tatsuya Fujiwara will play the government assassin Shishio Makoto in the two live action sequels. Fujiwara is known to have acted in several anime-adapted movies, having played as Light Yagami in Death Note Live action and the starring role in Kaiji: the Ultimate Gambler and its following movie. Keishi Otomo will return as the director of both projects.
The website has revealed the titles for the two movies. The first one will be Rurouni Kenshin: Kyoto Taika-hen (Rurouni Kenshin: The Great Kyoto Fire Arc) and the second will be Rurouni Kenshin: Densetsu no Saigo-hen (Rurouni Kenshin: the End of a Legend arc).
The first movie garnered much success in Japan, rippled by premiere showcases in various countries. Anime fans have gathered to see this much-awaited adaptation. Rurouni Kenshin had its North American premiere in Los Angeles and San Francisco, and has also been shown in many theaters in Asia and Europe.
Experience another round of brilliant sword fighting on Summer 2014.