Live Action Film Mugiko-san To Features Animation From Production IG
Mugiko-san to (麦子さんと, With Mugiko-san) is an upcoming film which stars Horikita Maki as the lead character. In the story, Mugiko is an otaku who lives with her older brother, played by Ryuhei Matsuda. Their father died and their mother left home when Mugiko was only a child. After not hearing from her for a long time, their mother Ayako (Kimiko Yo) returns and lives with them. Mugiko dislikes her brother's undependability and gambling. Also, she is having mixed feelings against her mother, whom nobody knew was hiding an illness.
Horikita Maki's character is also an aspiring voice-actress, which is why anime studio Production IG creates anime segments for the live action film. The studio creates clips from the fictional television anime Imadoki Dōkyūsei (Right Now Classmates) for the film's exclusive use. Imadoki Dōkyūsei is Mugiko's favorite anime wherein the heroine uses the power of science and technology in the virtual world.
The film itself is directed by an otaku too. Director Keisuke Yoshida discloses that he is an anime fan who loves shows with cool women and cute girls, as featured in his favorite titles such as anohana and Kagaku no Railgun S. Yoshida requested the animation studio Production IG to create the anime segments for the film.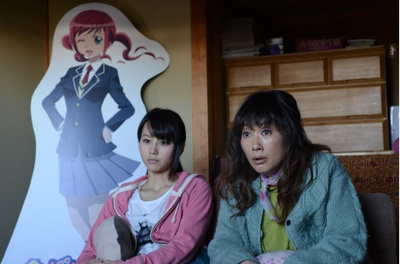 Itsuro Kawasaki will be directing the anime side by side the story. Yoshida wanted to include elements motivated by the shows featured in late-night series such as Precure. In the film's plot, the anime is currently produced as a half-year, 26-episode television animation series, and Yoshida says that he is waiting for a discourse for a spinoff.
The film was already planned by Yoshida eight years ago. The story shares of Mugiko's touching moments when her mother suddenly dies. Mugiko travels all the way back to her mother's hometown to lay the ashes to rest, and that's where she learned what kind of a person her mother really was.
Mugiko-san to is slated to open in Japan on December 21.