l-dk L♥DK Live Action Film Stars Ayame Gouriki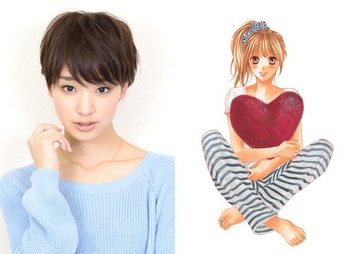 It has just been revealed that the actress/model Ayame Gouriki will take the lead role of the live-action film adaptation of Ayu Watanabe's L♥DK manga. The information has been revealed by Kodansha's Bessatsu Friend magazine last month, with the news of the manga getting its own film adaptation. However, the production has not specified the medium at that time.
Gouriki has played various manga based roles, which will include another character in the Black Butler live action film as Shiori Genpou. It has to be noted that Gouriki has played Jun in the upcoming Gatchaman film, and Yuno Furusaki in the live action Mirai Nikki, Another: World television drama series.
The L♥DK film will be directed by Yasuhiro Kawamura, and Yuuka Matsuda will handle the scripts. The live action film is scheduled to open in Japan in Spring 2014. The filming is set to start in July.
L♥DK (鄰居同居) is a wordplay for the abbreviation of living room, dining room, kitchen; this is most often seen in Japanese ads for apartments. This shoujo manga tells the story about Shuusei Kugayama, a high school's "Prince," gainin a bad reputation of rejecting many confessions for admiring girls. A student in the same high school, Aoi Nishimori, takes offense after Kugayama turns down her best friend in a very rude manner. As she comes home to her apartment, she is greeted by her new neighbor, none other than Kugaya,a. circumstances lead them to living under one roof, and Aoi has to hide this truth from her schoolmates, friends and family, as well as her budding feelings for this mean but charming boy.
Ayu Watanabe has launched this manga in 2009, with Kodansha publishing the 12th compiled book volume on May 13. The series volumes have appeared on Oricon comic charts and Bessatsu Friend website has revealed it will be adapted into a Drama CD which will be bundled along with the manga's 8th volume.