Kodoku no Gourmet Ready for Second Season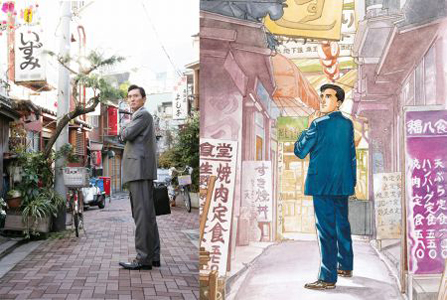 It has been recently revealed that Masayuki Kusumi and Etsuko Mizusawa's Hana no Zubora-Meshi – a story which centers in gourmet food and a lonely wife, is slated for a live action. However, food themed live action favorite is coming back to the small screen. The live action TV adaptation of Jiro Taniguchi and Masayuki Qusumi's gourmet manga Kodoku no Gourmet (Solitary Gourmet) will return for a new dose of interesting recipes and sumptuous meals in its second season.
It must be known that the first season of the manga-inspired series has been aired from January to March this year, airing 10 episodes with food-filled chapters. Goro Inagashira travels all over the country and takes a sample of all the interesting cuisines he finds on the street corners. There, the show is able to popularize local delicacy and take a focus on the delicious food the Japan is rich of.
The Kodoku no Gourmet Season 2 is slated to premiere on October 10 in the TV Tokyo channel. It is scheduled to air on Wednesdays, where Yutaka Matsushige of Kodoku no Gourmet Season 1 takes his place back as Goro in the new series. A second season welcomes a new change however, where Goro takes a visit to many local sweet shops and enjoy eating more desserts and lighter meals.
Manga writer Qusumi will have his own segment within the series, making it more interesting. The title of his part will be called "Furatto Qusumi" (Casual Qusumi) and here, he will talk with the guests to give out more information about the food shops highlighted in the story.
Kodoku no Gourmet is serialized under Fusosha's Weekly Spa! Magazine, along with its other publications. It has been featured irregularly since 1994, and only one volume has been compiled. Various editions list 200,000 copies, to which JManga has published some of the original prints in English.