Kimi Wa Petto Creator To Launch New Manga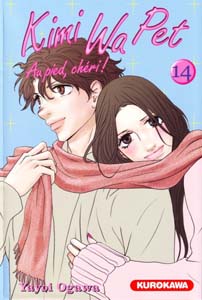 September is going to be a big month for Yayoi Ogawa, creator of the hit series Kimi Wa Petto / You Are My Pet / Tramps Like Us. On Wednesday, the mangaka revealed that she will be launching a new series in the Kodansha's women's manga magazine Kiss on that month. Ogawa hints that she had just decided on the new series' title, which is composed of four Chinese-derived kanji characters—her first kanji title ever. Most of her fans know that Ogawa uses kana, the phonetic Japanese characters, in all of her previous creations.
Reading kanji is not at all a problem to fans who loved Ogura's work. Ogura is known for her real-life inspiration of her mangas, most of which involves a unique love relationship between the two main characters. Her notable work, Kimi Wa Petto, shot her name into fame as the series has been adopted into a live action drama. This stars two famous Japanese celebrities, Jun Matsumoto and Koyuki in the lead roles.
Tokyopop has published Kimi Wa Petto under the title Tramps Like Us in the North America. The story trails after an established career woman named Sumire, who takes in a homeless boy as a pet after she finds him in a box outside her home. She named him Momo, after her own dog who passed away years ago. Sumire comically attempts to hide Momo from her all-perfect boyfriend as well as her coworkers who are always looking for intrigues.
However, Momo also has a life of his own—he is actually Takeshi Goda, a dance prodigy who finds success in modern contemporary dance. The two is entangled in a romantic attraction as they live together, only as master and pet.
Ogawa's other manga were also popular hits. Titles include Candy Life, Baby Pop, Kiss and Never Cry, and Extra Heavy Syrup.