Kii Kitano Stars In Jōkyō Monogatari Live Action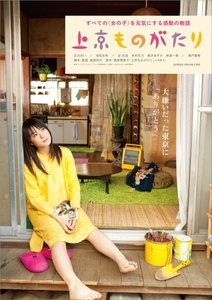 BANDAGE star Kii Kitano will lead the cast of Rieko Saibara's Jōkyō Monogatari live action project. The story is a loose autobiographical plot of Saibara herself, who has written the mangas Mainichi Kaa-san and Onnanoko Monogatari. The live action adaptation will be of film, and will hit the theaters in August. Alongside Kitano are the actors Fumino Kimura, Asuka Kurosawa (Himizu, Jellyfish Eyes, Ushijima the Loan Shark), Ittoko Kishibe (Onmyoji, Hula Girls) and Asaka Seto (Death Note).
Saibara's collaborator Toshiuki Morioka, who joins her in Onnanoko Monogatari, will be writing the scripts and will also handle the direction. Glory Hill, a punk rock band, will perform the theme song "Nowhere."
Jōkyō Monogatari centers on the life of Natsumi Takahara, a manga artist who is living in a slump. She looks back on her college days and the time she has spent living with her boyfriend, Ryosuke. Natsumi has moved from her hometown into Tokyo in order to attend college. She meets Ryosuke and starts living in with him. However, Natsumi was intent on having a stable life, and with Ryosuke not having a steady job and spend his days lazily, the couple decides to break up. That was a critical time for Natsumi, for she is getting her book published. She remembers the times Ryosuke supported and cheered her on.
Shogakukan has released this one volume manga in 2004. This will be the third of Saibara's works to get a live-action film adaptation. Her Onnanoko Monogatari has received its own film adaptation in 2009, starring Eri Fukatsu. Mainichi Kaa-san on the other hand, starred Kyoko Koizumi in 2011 and has received acclaim. Both titles have also received animation projects as well.
Saibara wrote 3 stories based from her own life. Onnanoko Monogatari centers her life with her friends. Jōkyō Monogatari is about her struggles into Tokyo, and Eigyo Monogatari was about her new working life.